Energizer Magnetic Flashlight - only a few left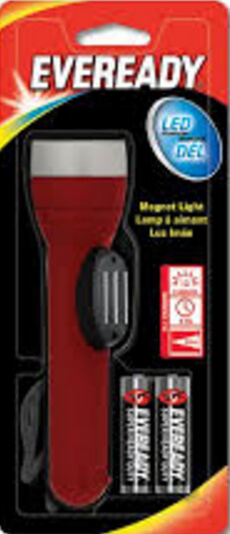 Product Number: EVLLM21S
Product SKU: Energizer Magnetic Flashlight
Retail price: $9.95 You save $4.20!

$5.75
1
Product Details
Energizer Magnetic Flashlight
Magnets: how do they work?
The Energizer Magnetic Flashlight is a high powered LED flashlight that features a powerful side mounted magnet that allows the light to be attached to any metal surface. Use the light for conveniently placed area lighting or just as a standard hand-held flashlight. This flashlight utilizes an unbreakable LED emitter and is capable of up to 12 lumens of bright white output.
Features:
Side switch LED Flashlight

Lifetime LED

Built-in Magnet

Color: Red

Included Accessories: 2 Eveready Super heavy duty AA batteries and Lanyard
Specifications:
Bright White LED

12 Lumens

Max Beam Distance: 35 meters

Length: 6 inches