Wireless technology has evolved so quickly in the last 10 years that wired and wireless peripherals are now indistinguishable in terms of latency. The big question is: buy a mouse with a lithium-ion battery that requires frequent charging or one that uses traditional AA batteries?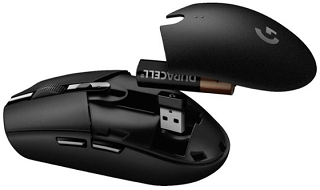 Whether you're using a high-end gaming mouse like the Logitech G305 or an Apple Magic Mouse for productivity tasks, you want to have the absolute best battery life. Rechargeable lithium-ion mice come with charging cables and will need to be plugged in every 2-3 weeks. The frequent charging quickly becomes annoying since the point of having a wireless mouse is to cut the cord.
A gaming mouse, like the Logitech G305, requires only one regular AA battery and can last up to 250 hours. A productivity mouse, like the Logitech M310, also requires only one AA battery and can last 18 months of daily use.
Energizer Ultimate Lithium batteries are the longest-lasting battery on the market. The Ultimate Lithium line also earned the highest score from Consumer Reports with an 89/100. These batteries are the lightest on the market, making them the ideal choice for a gaming mouse. The lighter the mouse, the faster you'll be able to react in-game. The Ultimate Lithium line also performs well in all high-voltage electronics—controllers, headsets, cameras & flashlights. Ultimate Lithiums will store energy for up to 20 years. They are leak-free and can operate perfectly in extreme temperatures.
The Ultimate Lithium can power a daily-use gaming mouse for 6-9 months.
---
NiMH batteries are built from recycled materials and rated as the best rechargeable AA battery by Consumer Reports. You can juice up these batteries 500 times before they begin having battery life performance issues. In storage, the batteries will retain their charge up to 12 months. The battery life for Energizer Recharge is much better than a typical lithium-ion rechargeable battery. The downside is you will also need to purchase a charging station. Battery Products sells the Energizer's 1 hour NiMH Charging Stand that can charge up to 4 batteries simultaneously.
Energizer Recharge can power a daily-use gaming mouse for 4-6 weeks.
---
These Duracell batteries are available as AA or AAA. The Procell line is less expensive than Duracell's high-performance Coppertop line, and they last longer in low-voltage devices (like computer mice). The Procell line guarantees freshness for 7 years. They are much more affordable than Energizer's Ultimate Lithium and Recharge lines.
The Duracell Procell can power a daily-use gaming mouse for 6-8 weeks or 250 hours.
---
The Rayovac brand has one main advantage over the competition: Reliability. Testers have confirmed that Rayovac High Energy AA batteries have the least number of duds and the most consistent battery life of all battery brands. BatteryProducts offers a hard-to-refuse bulk option of 500 batteries for $135. That's 27 cents per battery! The 500 pack will last you years and Rayovac High Energy's have a shelf life of 10 years. Rayovac High Energy Alkalines were specifically designed for small devices and electronics.
Rayovac High Energy can power a daily-use gaming mouse for 5-6 weeks or 200 hours.
---
Do disposable batteries last longer than rechargeable batteries?
Yes, in fact, they do. Rechargeable batteries (lithium-ion) cannot hold as long of a charge as Alkaline batteries. Even if the lithium-ion battery is built into your mouse, a full charge will not last as long as a traditional AA battery. For example, Logitech's high-end gaming mouse, the G-Pro, has a wireless battery life of 90 hours before it needs to be tethered to a charger. The G305, on the other hand, has a 250-hour battery life on a single AA battery.
Do wireless mice still run on batteries?
Yes, some wireless mice, like the Logitech G305, run on batteries due to its extreme power efficiency and low cost. Modern gaming mice and productivity mice can use the same AA battery for months at a time.
What kind of batteries do wireless mice use?
Most wireless mice use AA or AAA batteries with the largest size being two AA batteries. The number and size ultimately depend on the specific mouse brand and model. AA batteries are more popular due to their increased power capacity compared to AAA.
How long does a wireless mouse last?
Only true answer is it depends. The brand, model, daily usage and battery type all factor into your wireless mouse battery life performance. Some mice, like the Logitech G305, have been engineered to be extremely energy efficient even during high-use tasks like gaming. The G305 can last up to 250 hours. Other mice are specifically built for productivity and are physically moved much less often like the Apple Magic Mouse 2.
Why choose Alkaline batteries over Lithium-ion batteries?
Lithium-ion battery life is known to deplete over time. Since many people game for hours and hours every week, lithium-ion batteries used in rechargeable packs wear out quickly. Lithium-ion batteries also have a history of malfunctioning and sometimes even exploding. And when you run out of charge, you're forced to tether down with a charging cable. AA batteries are more economical and energy-efficient for wireless mice.
Does turning off your mouse save battery life?
Yes, turning off your mouse will save battery life. Even when your computer is sleeping or powered off, your mouse will still consume energy. For maximum battery life, always flip the switch to off on the bottom of wireless mice.
Get the best bulk pricing from Battery Products.
Enough surprise trips to your local store for a 24-pack of batteries every few months. The small purchases start adding up and are much more expensive than a single bulk order from Battery Products. We sell AA batteries in bulk for discounted prices more competitive than all local retailers. One bulk order will cover all your household battery-powered devices for years to come. Stay immersed in your game instead of hastily swapping out your half-used TV remote batteries because you ran out of your battery supply.