Showing 4 of 4 products
Streamlight Waypoint with Power Cord - Yellow 44900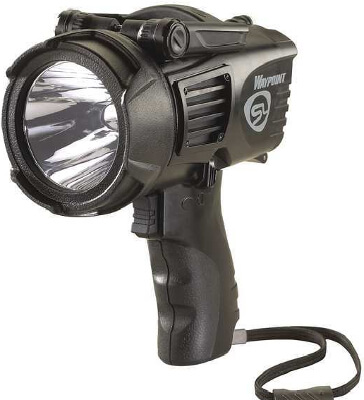 Streamlight Waypoint with 12V - Black 44902
Streamlight Waypoint Rechargeable Flashlights
Streamlight Waypoint flashlights provide focused, powerful beams and durable construction trusted by outdoorsmen and professionals in extreme environments. Incorporating resilient engineering to withstand heavy use, high lumen output to illuminate large areas and versatile lighting modes for diverse situations, these reliable lights meet the demands of harsh conditions. With robust builds, cutting-edge components and uncompromising standards, Streamlight Waypoint flashlights are the choice for failsafe lighting in demanding applications.
Key Features and Specifications:
Powerful Illumination: With a range of 40 to 550-lumen outputs, Waypoint models provide a bright and focused beam for optimal visibility in any condition.
Durable Design: Built to withstand tough conditions, these flashlights are water-resistant with rugged housings to protect against impacts.
Versatile Lighting Modes: Waypoint models feature multiple lighting modes to easily adjust brightness levels to suit their specific needs and conserve battery life.
Long-Range Capability: Waypoint models offer a spotlight beam with impressive reach, making them ideal for applications where a far-reaching, focused light is essential.
Common Uses:
Emergency Preparedness
Law Enforcement
Search and Rescue Operations
Construction & Maintenance
Outdoor Adventures
Streamlight Waypoint Chargers and Batteries
Keep your Waypoint Rechargeable Lights performing optimally with high-quality replacement batteries and chargers. Battery Products offer reliable and compatible power solutions whether you need replacement batteries or efficient chargers. Trust Battery Products to equip you with essential Streamlight batteries and accessories tailored specifically to maintain peak conditioning for your Waypoint flashlight.
Learn more about Streamlight Flashlights: