These are the best and brightest Streamlight flashlights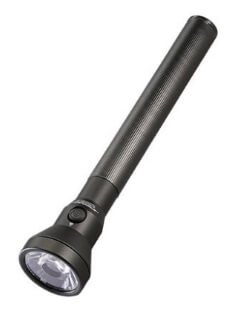 The Ultrastinger® LED is the brightest hand held streamlight flashlight.
...in terms of both lumens and candela—but at about a foot long, it might not be the most convenient tool to carry around. Here's a list of Streamlight's brightest standard handheld flashlights:
Streamlight model
Lumens
Candela
Beam
Run time
Length
Price
Ultrastinger® LED
1,100
65,000
510m
1h 30m
11.82"
from

$115.95

Stinger DS® HPL
800
48,000
310m
1h 30m
9.65"
from

$105.95

Stinger® HPL LED
800
48,000
310m
1h 30m
9.23"
from

$94.95

Strion® HPL LED
700
44,000
420m
1h 15m
7.00"
from

$88.57

ProTac HL® 3
1,100
36,000
379m
2h
7.1"
from

$83.35

Polystinger DS® LED

385
26,000
322m
2h
8.64"
from

$91.20

Polystinger® LED

385
26,000
322m
2h
8.07"
from

$82.08

Stinger DS® LED
350
24,000
310m
2h
8.85"
from

$93.02

Stinger® LED
350
24,000
310m
2h
8.41"
from

$87.79

Stinger DS LED HL®
800
22,000
297m
2h
8.85"
from

$105.95

Stinger LED HL®
800
22,000
297m
2h
8.41"
from

$92.95

ProTac HL®
750
18,300
270m
1h 15m
5.4"
from

$72.50

Strion LED HL®
700
12,000
219m
1h 15m
5.90"
from

$86.92

ProTac HL® USB
850
10,000
200m
1h 30m
6.5"
from

$107.95
** All values based on highest power setting. Sorted by candela.
We stock some of the brightest Streamlight flashlights made.
"Brightest" is really a subjective term. What kind of bright? The best answer to this question depends on what kind of flashlight you're looking for. A Streamlight flashlight to mount on a weapon? For search and rescue? To fight fires? Or just something reliable and handheld? Easiest way to think about it is in terms of lumens and candela:
Lumens: the total output of the bulb (focus not considered).
Candela: Measure of the brightest spot in a focused beam.
If you're looking to illuminate a large room or field, you'll want to favor lumens (ProTac HL 3 or Ultrastinger). If you want an extremely bright focused beam, favor candela (Ultrastinger, Stinger HPL or DS HPL).
The brightest Streamlight flashlight - by candela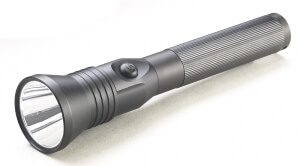 The Stinger HPL is one of the brightest Streamlight flashlights in terms of candela.
It's the Ultrastinger® LED. But your next best options at smaller sizes are:
The Stinger HPL and Stinger DS HPL both boast a max candela of 48,000.
The brightest Streamlight flashlight by lumens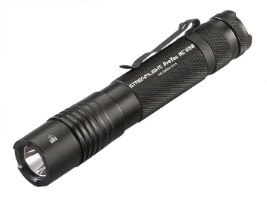 The ProTac HL USB is one of the brightest Streamlight flashlights in terms of lumens.
Again, after the Ultrastinger LED the next brightest Streamlight flashlight is:
The ProTac HL USB is capable of 850 lumens at the highest power setting. At only 10,000 candela it's the least intense beam making the list.
What about other special types of Steamlight flashlights?
These Streamlight flashlights aren't going to fit comfortable on your belt, but they pack a big punch. Here are some of Streamlights brightest specialty flashlights:
Streamlight model
Lumens
Candela
Beam
Run time
Length
HID Litebox


flashlight 45620

3,350
1,000,000
N/A
1h 45m
14.9"
Waypoint Rechargeable


flashlight 44900

1,000
115,000
490m
6h
6.75"
Vulcan® 180 LED


lantern / flashlight

1,200
75,000
548m
4h 45m
7.43"
Portable Scene Light


flashlight 45670

5,300
42,000
410m
4h
22"
E-Flood Litebox HL


flashlight 45806

5,300
31,000
352m
1h 45m
12.3"
Brightest Streamlight Flashlights for Emergency Services
Streamlight flashlights are notorious for their bright, dependable light, and are trusted by emergency professionals everywhere. Streamlight offers a wide variety of flashlights and headlamps for policemen, fire fighters, first responders, and other professionals. From the simplest of keychain lights, to the power of our Vulcan line of vehicle mounted systems, Battery Products carries all of the Streamlight supplies that you need. We also inventory a whole host of replacement Streamlight batteries, accessories, and more! Not sure how bright of a Streamlight flashlight you need? No worries. Battery Products is here to help in any way that we can. We will be more than willing to answer questions about any of our products, and help you find exactly what it is that you need.
Brightest Streamlight Tactical Flashlights for Firearms
Streamlight is well known for their heavy duty, radiantly bright tactical flashlights for modern firearms. Battery Products is a proud supplier of Streamlight, rail-mounted, tactical lights for both handguns and long guns alike. Our LED weapon-mounted lights can quickly attach and detach from your weapon in seconds, and are designed help you navigate rooms and other dark areas in any tactical situation. Streamlight flashlights have all of the power and bright illumination that you need in a worst case scenario, and are one of the wisest upgrades that any firearm enthusiast can invest in.
Brightest Streamlight Flashlights for Disaster Kits
Here at Battery Products, we understand that a high quality flashlight, headlamp, or other high-beam light source is one of the most essential components to any emergency disaster kit. Some of our brightest products include:
| | | |
| --- | --- | --- |
| Flashlight | Headlamp | Litebox |
| | | |
| | | |
| | | |
Whether you are looking for a small tactical flashlight to store in an emergency bag, or want to prepare for the apocalypse with Streamlight solar panels, Battery Products has got you covered.
SPECIALS
SHOP BY BATTERY TYPE
Sealed Lead Acid
Two-Way Radios
Cell Phones
Laptops
Photo & Video
Rechargeables
Coin Cell
Medical