Energizer® 123A Photo Lithium Battery - Bulk Pricing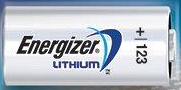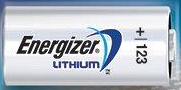 Product Number: CR123
Product SKU: CR123
Retail price: $4.30 You save $1.91!

$2.39
Specifications
Battery Size:CR123A
Battery Chemistry:Lithium & Manganese Dioxide (LiMn2O4)
Nominal Voltage:3V
Capacity:1500 mAh
Max Discharge Current:5A (Continuous), 3.5A (Pulse)
Operating Temperature:-40°C to 60°C (-40°F to 140°F)
Shelf Life:10 Years
Product Details
Buy Energizer- Ultimate Lithium CR 123 at Bulk Prices
Compatible with today's high-tech devices: Energizer Photo Batteries provide dependable performance in flashlights, digital cameras, digital camcorders, smart home devices, flash units, lasers, and more. Reliably ready when you need them:
Our 123 Photo Batteries hold power for up to 10 years in storage, so you can always have battery power at hand.
For police and home defense use, the Energizer CR 123A Lithium Battery is great for Streamlight TLR weapon lights
3V Lithium Battery, Replacement for CR123, EL123AP, CR123A, DL123, DL123A, RL123A, CR17345 Works with SportDOG Brand® beepers: Deluxe Beeper Locator (DSL-400), Add-A-Beeper® Accessory Beeper (SD-AB), Add-A-Dog® Beeper (SDR-BEEP), Part# SDT00-12486
See More Energizer Industrial Batteries