These are the 3 BEST AA batteries for trail cameras in cold weather
The big one is out there. Deer season is coming up again fast and you know exactly where to put up your stand. Your rifle is sighted in and after the ribbing your buddies gave you for letting him go last year, you're determined. He's been strutting past your trail cameras all summer just to taunt you. The last thing you want is to go check your trail cam and find out a cold snap has turned it into a brick strapped to a tree.
Putting cheap alkaline AA batteries in your trail camera might work fine in the summer, but cold weather drains them quickly, leaving you to guess at where your buck might be headed next.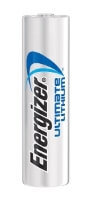 Price: $5.95 $1.30/each
BUY >>
*Bulk pricing available
If you're looking for the best trail camera battery life all season, the Energizer Ultimate Lithium AA is the way to go.
This AA battery is the choice of experienced hunters who don't want to have to walk out to their cameras to change the batteries all the time. You'll get more snaps and longer life than with other cold-weather trail camera battery.
The Ultimate Lithium AA is rated for -40°F! If it gets that cold you can save on ammo by walking out and picking up your frozen bucksicle exactly where your camera showed you it would be.
The L91 is pricier than others on this list, but you can order in bulk (12+), save some cash, and keep a stash of the BEST cold weather batteries on the market.

Price: $0.95 $0.50/each
BUY >>
*Bulk pricing available
If you're looking for something specifically for digital cameras in temperature extremes the Energizer Industrial Alkaline AA E91 was specifically designed for LED lights and Digital cameras in temperature extremes as low as 0°F.
This is your next best option after the L91. You won't get the same durability and longevity as the L91. If you're in Wisconsin, Minnesota or in colder climates those night-time temps might threaten the EN91's rating. But for milder climates this is more than capable of doing the job on cool evenings and dips below freezing.

Price: $0.95 $0.50/each
BUY >>
*Bulk pricing available
A battery like the Energizer Max E91 AA is a solid choice for cold weather trail camera battery life.
The E91 Max AA is also rated for 0°F but not quite as durable as the EN91 – and not built specifically for digital cameras. It's a step below the two batteries listed above, but it's still one of the best versus the rest of the field.
As one of the best AA batteries for trail cameras, the E91 will tough out the cold as long as you will.
How to find a quality cold weather battery
To get the best battery life out of your trail camera in cold weather lithium, zinc manganese dioxide, or cold-weather alkaline batteries are the best choice for game camera brands including:
Browning
Moultrie
Bushnell
Spypoint
Apeman
Reconyx
Tasco
Leupold
SPECIALS
SHOP BY BATTERY TYPE
Sealed Lead Acid
Two-Way Radios
Cell Phones
Laptops
Photo & Video
Rechargeables
Coin Cell
Medical