Shop Battery Type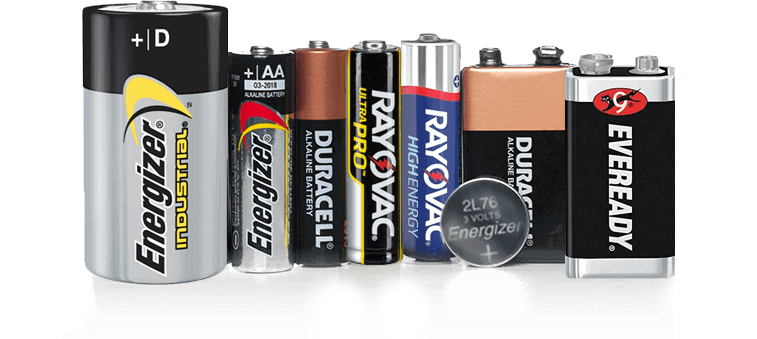 Shop Flashlight Type
Energizer Batteries and Streamlight Flashlights For Sale Online
Bulk Batteries At Wholesale Pricing
Battery Products is the internet's top resource for bulk batteries. If you're looking for AAs, AAAs, C, D, or 9V batteries, stop looking. We offer batteries from industry leaders like Energizer, Rayovac, and Duracell at wholesale prices.
We carry lithium, alkaline and rechargeable batteries for personal electronics, household appliances and anything else that needs juice to go.
Nationwide Same-Day Shipping
Our batteries don't do any good sitting on our shelf when there are customers like you who could be using them. Battery Products offers same-day shipping anywhere in the USA on most orders placed before 3 PM Central Time Monday through Friday.
Streamlight Flashlights for Sale Online
Battery Products sells more than just the best batteries available on the market. We also offer top-quality safety products for police officers, EMTs, firefighters, and everyday users. Battery products is proud to be able to offer Streamlight flashlights, lanterns, and other personal lighting accessories. Read More
Most Popular Streamlight Flashlights Online:
Buy Energizer Batteries Online
As Wisconsin's #1 Energizer battery distributor we only sell the best products, and it is well known by battery experts that Energizer is a name that is often associated with being the absolute best of the best. Our customers depend on quality, so we make that our central mission. There are currently Energizer batteries that we have sold in use in the medical field, high precision aviation watches made for commercial watches, and in almost every area of industry imaginable. They all choose Energizer products because they have the reputation to keep on going, and going, and going.
We have all of the consumer and industrial Energizer battery products you would expect from a giant national battery distributor. From tiny coin cell batteries that are difficult to find, to rugged long-lasting industrial alkaline batteries that are specifically designed to last longer under some of the most brutal of industrial circumstances. Read More
Most Popular Energizer Products Online:
Best Pricing on Rayovac Batteries
We are proud to announce that we now sell a full line of Rayovac Batteries, many of them at bulk pricing. Rayovac is a trusted brand based out of Wisconsin. They've been producing some of the highest quality AA, AAA, C, D, & 9 Volt batteries on the market for over a century. For the first time on Battery Products you can now purchase their most popular lines of batteries including:
Industrial Batteries at Unbeatable Prices
Battery Products has the batteries you need available today. Our business has been family-owned and operated since 1984, providing the best prices and unbeatable customer service on all of our battery, flashlight and safety gear products.
When you order from Battery Products you always get individual service from a real person, over the phone and online. We still believe in family values like honesty and accountability to our customers. We provide consumer and industrial-grade batteries to customers around the country from our battery distribution warehouse in Southeastern Wisconsin. Battery Products also builds custom battery packs to match OEM specifications. Email our battery pack experts for special orders and rush jobs.