Streamlight Personal Portable Flashlight Pens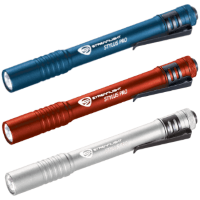 The Streamlight Stylus is a miniature, yet effective personal flashlight that is convenient to both store and carry. Its size allows it to comfortably fit into most any purse, pocket, coat, or other item of clothing where a standard flashlight would be too cumbersome. With Stylus, just because you sacrifice lumens does not mean that you have to forgo the level of quality that Streamlight offers in all of their other flashlights. The Stylus maintains Streamlight's quality standards, and are extremely efficient miniature flashlights for their size. The stylus comes in a wide range of available colors, including blue LED, red, white, and UV LED. Their affordable price tag makes them the perfect backup flashlight, and the fact that they can be carried on your person at all times make them ideal for emergency situations.
Streamlight Stylus Pocket Flashlights
In addition to the Stylus, Streamlight also offers a wide range of other top-notch flashlight products as well. Some of our popular products include:
Our full inventory of Streamlight flashlights and accessories are perfect for people of all budgets, and they make perfect additions to any emergency disaster kit, and are the trusted flashlight of emergency personnel everywhere. The stylus is affordable under most any budget, and is a great tool to have in your arsenal of household supplies!
Pocket Sized Pen Light by Streamlight
The Streamlight Stylus flashlight comes in a selection of different colors, and its unobtrusive design means that it be carried anywhere, at any time. Unlike cheap, dollar store pen flashlights, the Streamlight stylus is made to withstand the test of time. You can be guaranteed that when you need it, you won't be literally left in the dark. Streamlights track record for success is well known, which is why we here at Battery Products place our reputation in their hands.
Be sure to browse through our full inventory of Streamlight flashlights today!