Batteries & Replacement Parts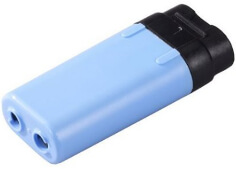 Survivor Battery Pack LED 90130
Product Details
Streamlight Alkaline Survivor - 90540 For Sale
Completely redesigned from the ground up, the popular Survivor from Streamlight is a must have for bug-out bags, EMT kits, camping packs, and more. The heavy duty clip ensures your light stays secured to your gear, while a newly reinforced D-ring allows your light to hang forward. Couple this with a new low-profile bezel, and the Streamlight Survivor will never interfere with equipment.
Sustainable Lighting Technology
Weighing in at just over 13oz, the durable construction of the Streamlight Alkaline Survivor provides power for four light settings.
The High setting pierces through smoke up to 405m with a 41,000 candela; 175 lumen beam for up to 4 hours.
The Low setting shines 237m with a 14,000 candela, 60 lumen beam for up to 15 hours.
In an emergency, the Flash setting will run for 8 continuous hours.
For battery conservation, the Moonlight mode will provide low-level lighting for 20 days.
Interchangeable Optics
The Streamlight Survivor features newly designed Smoke Cutter plugs as an option. Choose from three beam options without changing the light's output. Whether you need a tight beam of the black plug, the traditional beam, or you want to reduce glare with the amber plug, you can customize accordingly.
Rugged Light Protection
The powerful bulb found in each Alkaline Survivor is protected by an unbreakable polycarbonate lens with anti-scratch coating. This all comes sealed underneath a heavy duty, low-profile bezel. IPX4 water resistant and rated for drops up to two meters, it's no wonder the Streamlight Survivor is trusted by EMTs.
Buy the American made Streamlight Alkaline Survivor 90540 from Battery Products today.