Batteries & Replacement Parts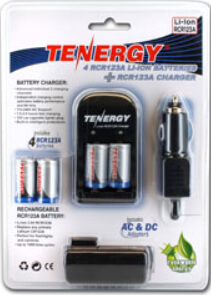 CR123 Battery Charger & 4 Rechargeable RC123 Batteries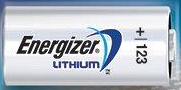 Energizer® 123A Photo Lithium Battery - Bulk Pricing
Product Details
Streamlight TLR-2 69120 Tactical Light with Laser
Perfect for use on the Glock 19 and other Glock-style rails, the Streamlight TLR-2 offers intense illumination paired with an accuracy-improving laser. A potent 12,000 candela/300-lumen beam blinds attackers and illuminates targets, while the 650 nm red laser ensures accurate round placement up to 75 yards. Rated for 2.5 hours of continuous run time, the TLR-2 guarantees light when you need it most. The Streamlight TLR-2 and TLR-1 are perfect for use on popular concealed carry handguns, including:
Glock 19
Glock 18
Glock 30 SF
Beretta PX4 Storm
Springfield XD-S 45
Walther PPS
Ruger SR9C
The TLR-2 runs on the ultra-powerful CR123A size battery. See our recommendations for the best CR123A batteries for Streamlight TLR weapon lights.
Ergonomic Weapon Mounted Lighting
Thanks to a secure and adjustable rail grip clamp system, the TLR-2 can be mounted on virtually any firearm in a matter of seconds. An ambidextrous momentary/steady on/off switch allows rapid illumination for left and right-handed shooters. Weighing a mere 4.72 oz, the TLR-2 can be mounted without upsetting weapon balance. The rail grip clamp can be mounted to Picatinny and Glock-style rails. TLR-2 rail-mounted tactical lights come with keys for:
Glock-style
Picatinny
Beretta 90two
S&W 99
S&W TSW
Everyday Carry Illumination
Streamlight's TLR-2 features C4 LED technology, offering a 50,000 hour lifetime. A low-profile design ensures the TLR-2 fits existing light-bearing holsters, making it ideal for everyday carry. High strength aluminum sealed construction makes the TLR-2 dustproof and impervious to shock, perfect for use on your truck gun. The TLR-2 is a virtually indestructible rail-mounted tactical light and laser system, ideal for everyday carry. View more Streamlight tactical weapon lights.
Buy the American Made Streamlight TLR-2 69120 Rail Mounted Tactical Light and Laser