Streamlight TLR-1 Weapon-Mounted Light 69110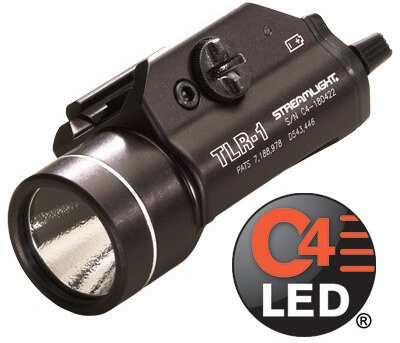 Product Number: 69110
Product SKU: 69110
Retail price: $224.55 You save $101.02!
Free Shipping

$123.53
Product Details
Streamlight TLR-1 Weapon Mounted Light for Popular Handgun Models
Light is your ally. The Streamlight TLR-1 Rail Mounted Tactical Light allows for powerful light at a moment's notice. A 12,000 candela/300 lumen beam illuminates targets and blinds attackers. The deep-dish parabolic reflector ensures optimal peripheral illumination and a concentrated beam. Rated for 2.5 hours of constant use, the TLR-1 guarantees reliable illumination when you need it most. The Streamlight TLR-1 and TLR-2 are perfect for use on popular concealed carry handguns, including:
Glock 19
Glock 18
Glock 30 SF
Beretta PX4 Storm
Springfield XD-S 45
Walther PPS
Ruger SR9C
The streamlight TLR-1 runs on the ultra powerful CR123A battery. Check out our recommendations for the best CR123 batteries for TLR-1 weapon lights.
Universal Ergonomic Design
The popular Streamlight TLR-1 tactical rail light can be attached to virtually any weapon in a matter of seconds. Thanks to an ambidextrous momentary/steady on/off switch, left and right handed shooters can operate the light with ease. Weighing in at only 4.18 oz, the Streamlight TLR-1 is perfect for under barrel mounts as it won't upset the balance of your weapon. The rail grip clamp attaches securely to existing Picatinny rails or Glock-style rails. The TLR-1 comes with keys for:
Glock-Style
Picatinny
Beretta 90two
S&W 99
S&W TSW
Heavy Duty Construction, Perfect for EDC
Made of machine aluminum with an anodized black finish, the Streamlight TLR-1 is perfect for everyday carry. The low profile design ensures the TLR-1 will fit in existing light bearing holsters. Thanks to C4 LED technology, the TLR-1 is impervious to shock and has a 50,000 hour lifetime, ideal for use on your truck gun. The TLR-1 features an IPX7 rated design, making it fully waterproof in 1 meter of water for up to 30 minutes. If your weapon can handle it, so can the TLR-1.
Buy the American Made Streamlight TLR-1 69110 Rail Mounted Tactical Light Today