SPECIALS
SHOP BY BATTERY TYPE
Sealed Lead Acid
Two-Way Radios
Cell Phones
Laptops
Photo & Video
Rechargeables
Coin Cell
Medical
Streamlight Vantage 180 Multi-Function Flashlight (Orange)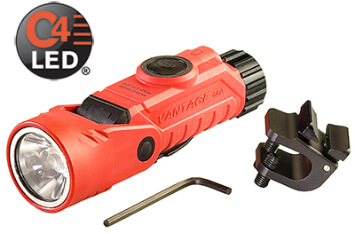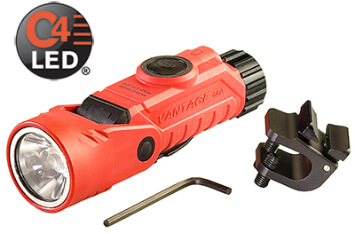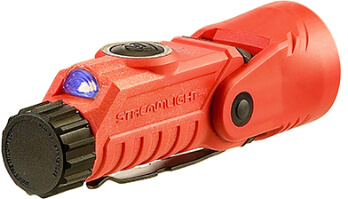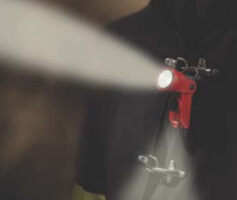 Product Details
Streamlight 88900 Vantage 180 Multi-Function Helmet Mounted Flashlight in Orange
Two Light Settings

High – 250 Lumen runs 4 hours
Low – 100 Lumen runs 12 hours

Two Rear LEDs

White LED: downcast floodlight to see what's at your feet
Blue LED: best for use in heavy smoke – offering max visibility

Height: 5.2 in (13.2 cm)
Head Diameter: 1.6 in ( 4.06 cm)
Body Size: 1.06 in (2.69 cm)
Weight: 5.5 oz (156 grams)
Includes two FREE sets of CR123A batteries
Best Streamlight Flashlight for Firefighting
The Streamlight Vantage 180 is the best flashlight for firefighting because of its simple transition from a helmet light to a handheld beam flashlight. It's made out of high impact nylon and is resistant to chemicals. It lasts a long time and has a nice grip. The Vantage 180 is one of the best Streamlight flashlights available.
Vantage 180 Dimensions: 5.2in long, 1.6in head diameter, 1.06 in body size
Vantage 180 Weight: 5.5 oz.
The main light is a C4 LED lasting 50,000 hours and has two modes:
Low: less intense beam (12 hour battery life at 100 lumens; 2,650 candela; 103m beam)
High: super high beam (4 hour battery life at 250 lumens; 7,200 candela; 170m beam)
The rear LED has two modes:
White LED: downcast flood light to see whats at your feet
Blue LED: best for use in heavy smoke - offering maximum visibility
There's one on button on the body of the flashlight to activate high mode and it double clicks to switch to low mode. When you rotate the head 90 degrees, the blue led switches automatically to the white LED.
Operates on two (2) replaceable CR123A lithium batteries (included).
List of the Streamlight Vantage 180 features:
Durable construction resistant to impact and chemicals
Stainless steel pocket clip
Turnout gear attachment hook
Waterproof up to 1m for 30 mins.
Head moves 180 degrees
Meets requirements of NFPA 1971-8.6 (2007)
Includes: (1) easy to use helmet bracket, (1) hex key & (2) CR123A lithium batteries
Information about Streamlight's Lifetime Warranty on Streamlight.com.
Buy the Streamlight 88900 Vantage 180 flashlight online from Battery Products and get two FREE sets of CR123A batteries.